Bathroom Remodels
From bathing the kids after a muddy day playing outside, to taking steaming-hot shower in the morning, your bathroom should be an escape from life's worries. Let us create your own personal spa to unwind after a stressful week at the office.
Are you sick of waking up in the morning and walking into your old dated bathroom?  When you take a shower, does it leak down to the first floor family room ceiling?  Or is your shower so small, you can barely move? If you answered yes to any of these questions it's time to transform your old, dated, nasty bathroom into a warm, inviting, luxurious spa.  It's time you called us to help design and remodel your bathroom.
View Our Photo Gallery
Bathroom Remodel Estimate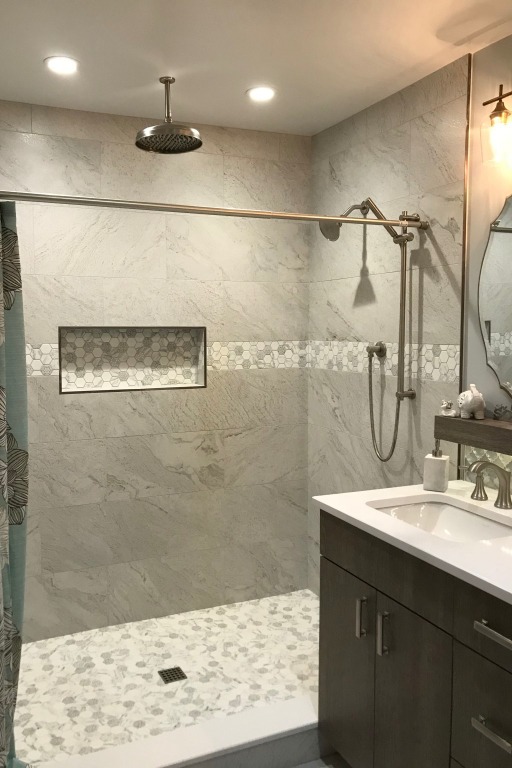 START WITH A GREAT DESIGN
When designing a bathroom remodeling project, keep in mind this is the space where you start your day and end your day. If you and your spouse plan to use the bathroom at the same time, make sure to include extra cabinet space and double sinks. If you are considering remodeling your large bathroom, consider removing your bathtub to enlarge your shower. How many times a year do you use your bathtub? The average use of a master bathtub is once a year and the shower is used every day. Make sure the size of your shower is comfortable & large enough to move around.
There are a lot of things to think about when designing and remodeling your bathroom. Here are some amenities that we have completed for our clients:
Heated Floors with Programmable Thermostats
Body Spray Shower Systems
Handheld Shower Heads
Built-in Shampoo Shelves and Niches
Custom Shower Benches
Custom Glass Shower Enclosures
Custom Linen Hutch Cabinetry
Vanity Cabinet Towers
Above Toilet Cabinetry
Glass, Natural Stone, Porcelain, and Ceramic Tile
Granite, Hanstone, Silestone, Caesarstone, and Cambria Countertops
" what are clients have to say "
"We recently had the pleasure of having our bathroom remodeled by NEC, they exceeded our expectations. They are great people and I would highly recommend them."
– Mark Baker
FREE DESIGN ESTIMATE
 Do you need help with your project?
Fill in your details below. Please provide me with as much information as possible, and we''ll get back to you ASAP.
NEC Showroom
1127 Route 9
Wappingers Falls, NY 12590
Contact Us:
Phone: (845) 298-4400
Toll Free: (800) NEC-3533
Mobile: (914) 490-4100
 EMAIL
necremodel@gmail.com
FOLLOW US:
NEC Showroom
1127 Route 9
Wappingers Falls, NY 12590
Contact Us:
Phone: (845) 298-4400
Toll Free: (800) NEC-3533
Mobile: (914) 490-4100
 EMAIL
necremodel@gmail.com
FOLLOW US: